About the doctors:

Dra. Josefina has over 25 years experience.

She is a graduate of the UNIVERSIDAD AUTONOMA METROPOLITANA in México City, certified in dental prosthesis, orthodontics and Dentofacial Orthopedics as well as being certified in endodontics (root canal therapy)

Dr. Luis has over 8 years experience.

He graduated as a Dental Surgeon from UNIVERSIDAD JUAREZ DEL ESTADO DE DURANGO is certified as a specialist in prosthodontics from UNIVERSIDAD AUTONONOMA DE CIUDAD JUAREZ and is certified as an implant specialist..

In 2009 he published an article in the journal of the MEXICAN DENTAL ASOCIATION "Monitoring the demineralization under a new sealant, useful in minimally invasive dentistry"

He has assisted in various courses, trainings and conferences in the active years.

Dr. Solis has been a member of the CHICAGO DENTAL SOCIETY, AMERICAN PROSTHODONTICS SOCIETY and THE WORLD CONGRESS OF MINIMALLY INVASIVE DENTISTRY.
SERVICES
Our primary objective is to provide every patient the best aesthetics and function in their dental work through a variety of options and services.
·Prevention and diagnostics
Dental Examinations
Dental Cleanings
Regular X-Rays and Full Jaw and maxillary Panoramic
· Aesthetic Dentistry - there's nothing that leaves a better impression than a beautiful smile.
| | |
| --- | --- |
| Composite filling (bondings) | Porcelain Crowns |
| Metal Crowns & Bridges | Metal Free crowns |
| Zirconia crowns | Porcelain fixed bridges (permanent) |
| Porcelain veneers | Tooth whitening |
STA. (SINGLE TOOTH ANESTHESIA). This technique that allows us to minimize the dosage and shots of anesthesia and offers the advantage of being more comfortable than a regular shot of anesthesia. Another advantage is not putting the lips or tongue to sleep, also in certain areas some teeth have the advantage of one shot only.
Restorative Dentistry - there are many

reasons we lose or break a tooth Replacing or repairing the tooth is vital to your health. We offer a wide variety of options to meet the requirements of each individual patient.
| | |
| --- | --- |
| Fixed bridges | Implants |
| Dentures | Partial dentures |
| Overdentures | Root Canal Treatment |
| Composite filling | Crowns |
Minimally Invasive Dentistry - It is our philosophy that the health, function and aesthetics of oral tissue should be protected from disease from, or intercepting its progress with minimal tissue loss. This is assured through the use of Air Abrasion
We also perform
Dental Implants
Pit and fissures sealants
Our modern dental equipment and techniques include:
| | |
| --- | --- |
| Intra-oral camera | Panaramic and Digital X-Rays |
| Ultrasonic Dental Scaler | Air Abrasion |
For more information about dental treatments click HERE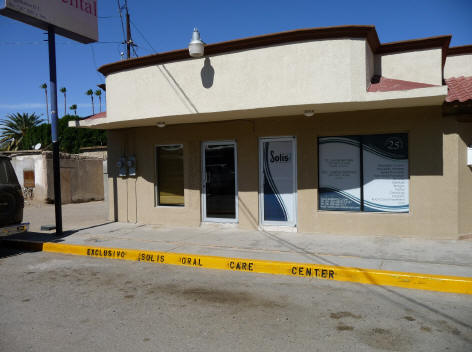 E-mail: solisoralcc@hotmail.com

Telephone:

Int: 011 52 658 517-3181

USA & Can: 928 468-3177

Office Hours:

Monday - Saturday:

8:00 am - 4:00pm AZ Time

Sunday by appointment

Location:

"A" Avenue, between 3rd and 4th

One block south of USA-Mexico border,

turn right one & one half blocks (west)

Warning: You will be approached by street salesmen offering better prices. Just smile and continue on.